Questo articolo è stato pubblicato il 20 febbraio 2013 alle ore 08:26.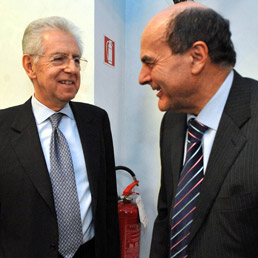 The result of the election is now more uncertain than ever. «Before the vote it is always like this», observed the Head of State Giorgio Napolitano. Yet at the start of the election campaign, the outcome seemed obvious: victory for the PD/SEL coalition was to some extent taken for granted. Now only days before the vote, the picture painted of Italy after the polls is not quite so cut and dried. A clear victory that would allow the center-left to govern, without interference, with a large majority in the House and Senate, is now unlikely. Pundits, pollsters and political scientists alike are convinced that Pier Luigi Bersani will team up with Mario Monti: the coexistence of the centrist parties with PD and SEL would be a first for the Italian political scene.
The good news is that no matter how uncertain the outcome, the coalitions from left to right do not seriously question the commitments to Europe: a balanced budget, control of public expenditure, reforms for growth.

The "race to the voter" is now more hectic than usual: one Italian in every three has not yet decided who to vote for. This is the prey that each party leader is trying to snare. The inland revenue and taxes, which have always been at the center of election campaigns, have come to monopolize the debate. Fiscal discipline is another battlefield. Berlusconi wants to overcome the question of European austerity «dictated by Germany». The PDL proposes, for example, the exclusion of public expenditure on investments from the European stability pact. But not so far as to undermine the Fiscal compact.
The center-left stance is similar, as it respects the commitments taken by Italy with Europe but it also hopes to negotiate softer rules. «The end of the austerity dogma and of the balance of public accounts seen as an end in itself», says the program of the coalition PD/SEL. These are points on which Pier Luigi Bersani, the candidate best placed to become the next prime minister, wants to establish a legislative agreement with Mario Monti: budgetary rigor, yes, but subject to reforms and intervention for growth and above all job creation. This alliance, in Bersani's view, will be a barrier to the «populist anti-European regression», meaning Beppe Grillo, leader of Movimento 5 Stelle, who wants to renegotiate all agreements made by Italy in the EU, from Schengen onwards. Grillo proposes a referendum on the euro too: his positions will be reflected in Parliament, but the representatives of M5S will be confined to the opposition benches.
(Traduzione di James Tierney)
©RIPRODUZIONE RISERVATA
Permalink
Moved Permanently
The document has moved here.