Questo articolo è stato pubblicato il 05 marzo 2013 alle ore 10:58.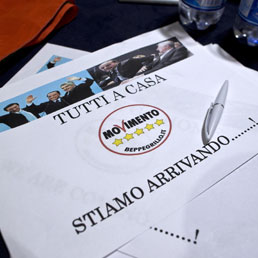 In the past, Beppe Grillo has made many statements about the euro currency and about his willingness to renegotiate the Italian public debt which imposes on taxpayers what many see as an unbearable interest rate payment bill. These positions have earned him a reputation for being anti-euro and a market-unfriendly leader. The view that Italy might leave the euro and default in full, or in part, on its outstanding public debt "with the least possible damage", was fleshed out in an interview with broadcaster La7 in April last year. In a follow-up interview with Bloomberg in May, Grillo then said that his comments were personal and that the Five Star Movement would decide what position to take on economic issues in due course.
Over the weekend, Grillo gave interviews to two German newspapers, Focus and Bild am Sonntag, in which he reiterated his position that he would not form a coalition with any of the other old school political groups. He also warned about the seriousness of the economic and political situation in Italy, saying that if nothing changes imminently, Italy might be forced to leave the monetary union and seek to renegotiate the interest rate that it pays on its public debt.
He proposed the idea of holding an online referendum on monetary union membership to give the common currency what he sees as the democratic legitimacy of the Italian population. He also said that he is pro-Europe, but that the process of integration needs to become more bottom-up and not forced upon citizens by institutions.
The theme of a euro exit is obviously extremely disruptive from a market perspective and we believe that one of the reasons why we have not seen a pronounced sell-off on the back of the unexpected election results is that none of the political leaders who now have direct influence on the political landscape have declared themselves against the euro.
Besides the views expressed by Grillo himself – who incidentally, will not become a member of parliament – the political and economic agenda of the Five Star Movement that he leads is still taking shape, in our opinion, benefitting from the contributions of many of the movement's friends and members. In our view, the Five Start Movement will no doubt have a frank debate on the issue of membership going forward, and such a debate could turn out to be quite disruptive for the market. Nevertheless, as we argued in a recent edition of our NEMO, we believe the perception that the Five Star Movement is an anti-euro party will change in the market once newly elected parliamentarians begin work in the new government and start to use calmer tones in their rhetoric, although we note that the transition itself could be rather noisy.

©RIPRODUZIONE RISERVATA
Permalink
Moved Permanently
The document has moved here.