Questo articolo è stato pubblicato il 01 marzo 2013 alle ore 09:25.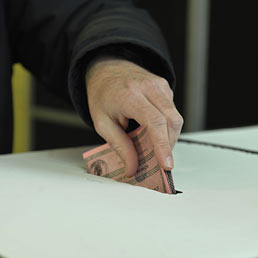 Italian professor Guglielmo Meardi believes there is no need for the Eurozone and financial markets to "panic" over Italy's election results.
The elections have produced a stalemate with the possibility of a hung parliament, but Professor Meardi believes whatever Government is put in place should be able to hold things together until the German elections in September.
Professor Meardi, of Warwick Business School, feels that Italy can then have new elections then as any decisions on future European Union economic policy probably won't happen until then either.
With all domestic votes counted, Pier Luigi Bersani's centre-left bloc won the lower house vote but has failed to secure a majority in the Senate, with control of both houses needed to govern.
News of the results led to a sharp fall on Italian financial markets and spread fear that the Eurozone is heading for another crisis.
But Professor Meardi said Italy is used to parliamentary instability and believes the country accounts are in a stable position.
Professor Meardi, who is Professor of Industrial Relations & Director of the Industrial Relations Research Unit, said: "The markets are disappointed that their favoured option, a stable Bersani-Monti government, lost, but panic is very premature for two reasons.
"First, Italy is used to parliamentary instability and there are conciliatory signs among the different parties.
"A minority centre-Left government with the abstention or support from the 5 Star Movement is not impossible, while early snap elections are institutionally non-viable as the Parliament needs to elect a new head of state by May, when the term of current President Napolitano expires. The Constitution forbids the President to dissolve Parliament in the last six months of his or her term.
"Secondly, Italy, unlike the other Southern European countries, has a primary surplus, i.e. without including interest payments, rather than a deficit and public debt is expected to fall by 2% this year, without the need for any further action.
"There are of course serious clouds on the long-term economic prospects, but these are better addressed in the Autumn at European level after the German elections: after then, with no election forthcoming, more serious talks between the main Eurozone countries on European economic governance will be possible. The Italian government should be able to keep the country and the budget on track until the Autumn, and have new elections at the same time as Germany."
©RIPRODUZIONE RISERVATA
Permalink
Moved Permanently
The document has moved here.